It is easy and affordable to have an internet presence. Caniluna provides all the services you need to get online including domain name registrations, web design, site hosting, email configuration, DNS configuration and redirections through to establishing a social media presence.
Managed Web Hosting
Let Caniluna design, host and manage your online presence so you can get on with being busy.
Our standard service bundle includes:
Website Design and hosting
Weekly change request for your website content.
Purchase of a Domain Name (eg: yourbiz.com.au)
Google and Bing search engine registration (including sitemaps)
Page hits and traffic report each quarter
Embedding of your Twitter and/or Facebook presence into your website design

plus

a commercial photographic shoot to deliver up to 25 premium photos of your business/products to use on your website, publications and advertising.
$50 per month, invoiced monthly, no contracts, no upfront charges
Discounts available for non-profit organisations
Caniluna can customise an online package to suit your needs and budget.
Think of the combined potential you have with Facebook, Twitter and a website to boost your business.
The growth of social media and mobile technology makes this too important to miss !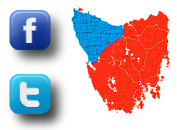 03 6437 2945